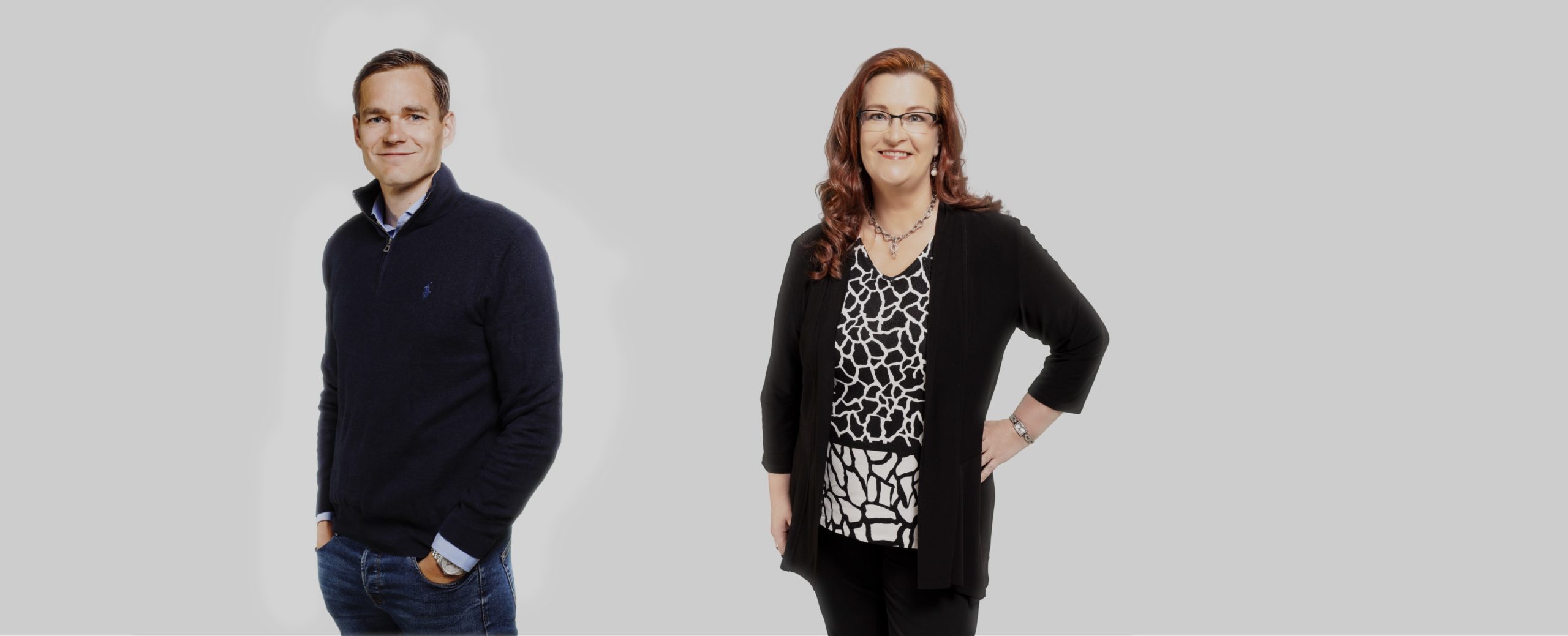 Sari Mannonen and Joonas Rauramo appointed as Executive Board members
The annual meeting of Korkia Oy appointed Sari Mannonen (PhD of Biochemistry) and Joonas Rauramo (MScEcon & MScEng) to be the new members of the Korkia Executive Board. These appointments support Korkia's strategic focus as Mannonen and Rauramo will provide the Executive Board with robust competences in renewable energy and electrical transmission systems. The members […]
The annual meeting of Korkia Oy appointed Sari Mannonen (PhD of Biochemistry) and Joonas Rauramo (MScEcon & MScEng) to be the new members of the Korkia Executive Board. These appointments support Korkia's strategic focus as Mannonen and Rauramo will provide the Executive Board with robust competences in renewable energy and electrical transmission systems. The members who are to continue in the Korkia Executive Board are Timo Leino, Martti Malmivirta, Pertti Nurmio and Jari Pirinen.
Sari Mannonen is a business leader and developer, passionate about transforming companies and increasing their business. Sari has over twenty years of leadership experience in international business, sales and marketing in global companies such as UPM, Lindström and Biohit. Currently, she leads the Solutions Business & Portfolio Development Unit at Helen Oy.
"Korkia awakened my interest especially with its new, scalable business model, which combines renewable energy project development, venture capital, funding and portfolio management, thereby offering Korkia investors a unique, global investment opportunity in renewable energy. In accordance with sustainable development, investments in renewable energy are growing strongly, and energy self-sufficiency is more important than ever before. Both of these factors support all aspects of Korkia's business and strong growth.
"The other focus areas of Korkia consultancy, resource-wise industry and emission-free traffic are all extremely interesting areas of growth, and well within the range of my competences. I expect to meet active discussion both within the Executive Board and between the Executive Board and the company executives, particularly concerning strategic issues in this important and interesting phase in Korkia's growth".
Joonas Rauramo is a leader in the area of renewable, green technologies, desiring to make the energy system CO2-free. Joonas has worked in emission-free energy production for fifteen years; most of these years he has been involved in solar and wind power production at Fortum. Currently, Joonas leads Coolbrook's strategy and industrial partnerships.
"Over these fifteen years in emission-free power production, I have seen huge successes and also many of the important challenges that the industry has faced. I believe that my experience will help Korkia enhance its strategy further and implement it; I will also be able to be a sparring partner in issues relating to business operations.
"Korkia's ambitious strategy and its innovative business model, combined with the market situation, open a huge opportunity for growth. The model, built on project development and local partnerships, is clearly different from that of Korkia's competitors, and it brings huge value-creation potential to Korkia. Similarly, Korkia Consulting focuses on the most urgent and critical challenges in order to advance green transition and bring together key interest groups for a more sustainable future. For my part, I want to advance Korkia's growth story and help transition toward an emission-free, green energy system. I expect that together with the Executive Board and Korkia's executives, we will be able to increase growth, making Korkia into an internationally recognised operator in the field of renewable energy and sustainable growth".
"I warmly welcome Sari and Joonas. The appointments support Korkia's strategic focus as Sari and Joonas bring strong expertise in renewable energy and electricity grids to the Executive Board. I expect both will support Korkia on its growth path," comments CEO Pauli Mäenpää.